Hybrid operation or a story of one saved life
Hybrid operation or a story of one saved life
April 22, 2016 in the Cardiovascular Surgery Department of Medical Centre Hospital of President's Affairs Administration of the RK hybrid was performed operation on the heart and abdominal aorta to the patient from Taldykorgan city Alexander Voytyuk, 1954. Deputy Head doctor of Surgery S. Mendykulov, chief department of X-ray surgery S. Musayev, chief department of cardiovascular surgery R. Albayev, cardio surgeon T. Zhakiev and physician of interventional x-ray surgery A.Zemlyansky conducted operation.
Alyaksandr Voytyuk said that abdominal aortic aneurysm diagnosis determined in January 2016 in the Taldykorgan city. Patient's family tried for a long time to find a healthcare organization for the operation. When they heard that an operation could be carried out in the MC Hospital of PAA of the RK, immediately approached to the Hospital specialists.
Alexander Voytyuk goes on: "Upon learning about MC Hospital of PAA of the RK, I immediately got on the portal of Taldykorgan, received quota, my family came to operation in Astana. On arrival at the Hospital, I was admitted in surgical department where chief department is Rustam Albaev. At the preoperative examination detected heart problems. It became apparent that with interval two operations can not be done. If to do cardiac bypass surgery first, then at any time the aorta may burst. And if apply stentgraft on aorta, the heart will not resist anesthesia. The doctors had decided to perform hybrid operation. Hospital physician talked to us, we agreed to the operation".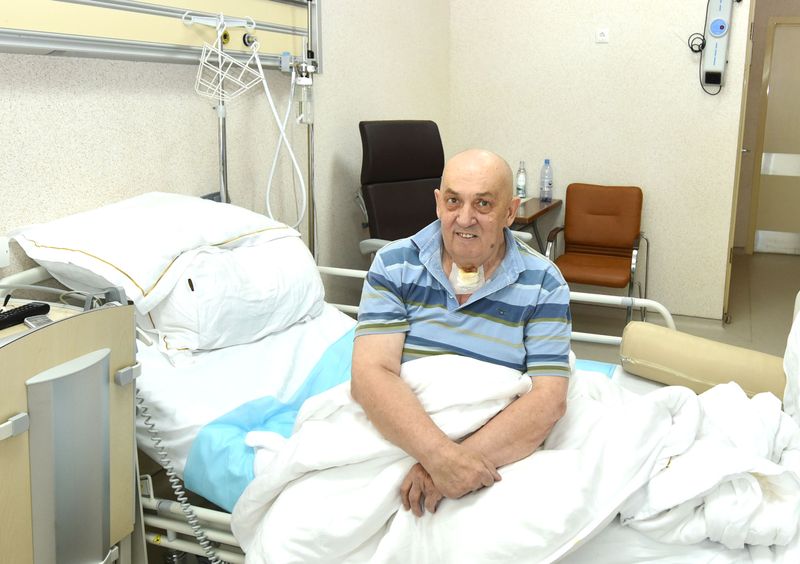 It should be noted that it is in our hospital in 2015 for the first time in Kazakhstan was equipped hybrid operating room, allowing performing multiple operations at the same time in one patient with medical imaging equipment. Despite the severity of the patient, the operation was successful, and Alexander Voytyuk is now feeling well and ready to be discharged. The patient noted the professionalism of medical staff of MC Hospital of PAA of the RK: "To all the doctors of our country, I would wish to get training in this wonderful medical organization, especially surgeons. See how doctors are working on complex operations. Therefore, a big thank you to doctors, nurses of MC Hospital who took care of my health. I would especially like to note those whom we forget - nurses. Their hard, exhausting work and patience that they give for the patient's health. Therefore, I wanted to thank you all for the attention. In general, I would like to say thank you so much to our President Nursultan Nazarbayev, because it is not easy to build such center. May God give all well! All health! ".
It seems that this is only one of many operations performed in our hospital with the latest technology, but in fact – it is the rescue of another life in an almost hopeless situation, the return of a loved one in the family.