Diabetic Foot Center of Medical Center Hospital of the President's Affairs Administration of the Republic of Kazakhstan
Diabetic Foot Center of Medical Center Hospital of the President's Affairs Administration of the Republic of Kazakhstan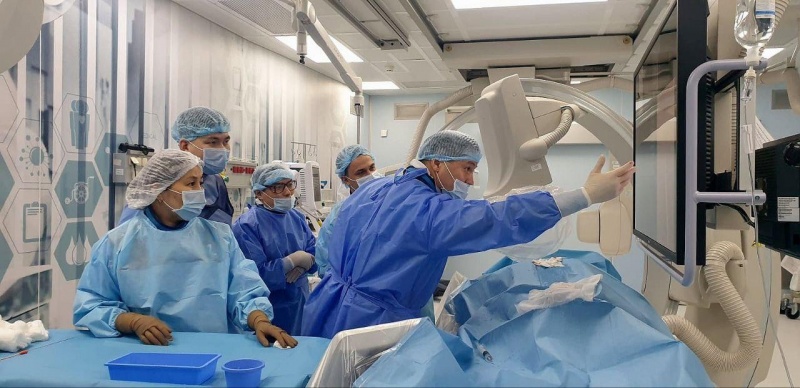 The Diabetic Foot Center of Medical Center Hospital of the President's Affairs Administration of the Republic of Kazakhstan, which includes an outpatient consultation service, inpatient department and modern angiographic operating room, started its work in January of this year.
Diabetic foot is one of the serious complications of diabetes mellitus. It is characterized by pathological changes in the feet in the form of ulcers, bone and joint damage, and loss of skin sensitivity. Without timely treatment, this complication can lead to amputation of the limb.
The focus of the new Diabetic Foot Center is to prevent high amputations in people with chronic arterial disease of the lower extremities. To date, more than 100 patients have been treated at the Center.
The Center implements a comprehensive multidisciplinary approach to the treatment of patients with diabetic foot syndrome. A team of doctors is involved in the treatment of one patient, including vascular surgeon, endocrinologist, cardiologist, neurologist, surgeon, trauma surgeon- combustiologist and radiologist. With this approach, patients receive all necessary medical care in one place under the supervision of their attending physician.
Modern methods of surgical treatment of ulcers:
ultrasonic cavitation
vacuum therapy
transplantation of fibroblasts to close extensive wound defects of the limb.
Due to its location in a multidisciplinary hospital, the Center can provide care to patients with severe comorbidity (clinically significant coronary artery disease, chronic hemodialysis, etc.).
In the inpatient department, patients are examined and treated before undergoing vascular interventions aimed at preserving the limb, as well as operations and manipulations that promote healing of tissue defects formed on the limb as a result of circulatory disorders.
Types of surgeries:
bypass interventions on lower limb arteries;
endovascular interventions on lower limb arteries (balloon angioplasty and stenting): a modern minimally traumatic (minimally invasive) way to improve blood circulation.
hybrid vascular reconstructions (combination of open and endovascular approaches within one clinical episode).
allotransplantation to close extensive trophic wounds.
Prevention of diabetic foot syndrome is extremely important for patients diagnosed with diabetes mellitus.
The necessary measures are:
continuous monitoring of blood sugar levels;
daily foot examination;
avoidance of bad habits (smoking, alcohol);
refusal to go barefoot, even at home;
use of special therapeutic orthopedic shoes;
maximum possible protection from burns and hypothermia of the feet;
normalization of nutrition;
performing therapeutic and breathing exercises (to improve the cardiovascular system, normalize body weight, improve lymph flow); regular medical examinations;
exclusion of self-medication.
Remember that it is much easier to prevent the development of diabetic foot disease than to cure it. Regular preventive appointments and following the doctor's recommendations will help to avoid unpleasant consequences and complications.