Internal Medicine Department No.3 (Internal Medicine, Endocrinology, Neurology)
Internal Medicine Department No.3 (Internal Medicine, Endocrinology, Neurology)
About the Department
Internal Medicine Department No.3 is one of the therapeutic units of the Presidential Hospital. The Department is located in the new building of the Hospital on the 5th floor, block A2.
The bed fund – 26 beds.
The Department provides specialized diagnostic and treatment care in three areas: General Therapy, Endocrinology, Neurology.
Services of the Department
Neurology. An important area of the neurological service is the diagnosis and treatment of patients with difficult diagnoses, such as atypical forms of stroke, epilepsy, neurodegenerative diseases, inflammatory and demyelinating diseases of the nervous system.The Hospital's multidisciplinary team of neurologists, neurophysiologists, neurosurgeons, and rehabilitation therapists, who have passed internships in the best clinics in Europe and Asia, successfully work with patients suffering from epilepsy, Parkinson's disease, Alzheimer's disease, multiple sclerosis, and myasthenia gravis.Specialists use such modern diagnostic methods as magnetic resonance tractography of the brain, which allows visualizing the orientation and integrity of the brain pathways in vivo, magnetic resonance neuroimaging in epilepsy and convulsive syndrome, which determines the pathological "epi-focus" in the structure of the brain. This is important for determining the patient management strategy and selecting the treatment method (surgically or conservatively). 1H magnetic resonance spectroscopy of the brain is used in the differential diagnosis of volumetric brain formations, neuroinfections, neurodegenerative diseases and injuries. These methods are used not only to diagnose the disease, but also to determine its prognosis.From 2019, the Department has been providing rehabilitation treatment within the framework of Medical Insurance Fund for patients who have suffered a stroke.

Endocrinology. The Department treats and rehabilitates patients with various endocrine pathologies (disorders of carbohydrate metabolism, pathology of the thyroid gland, hypothalamic-pituitary zone, and adrenal glands). New approaches to drug therapy of this patient category are being implemented. The Department conducts early screening of osteoporosis, as well as the selection of therapy.

Therapy. The therapeutic group of patients is represented by pathology of the cardiovascular system, respiratory organs, and gastrointestinal tract. The current direction of therapy - clinical nephrology is also being developed. In 2019, the general practitioner passed training and retraining in nephrology. She actively conducts diagnostics of kidney pathology, deals with the issues of determining the tactics of patient management, including the direction of the formation of an arteriovenous fistula and the beginning of dialysis therapy.
Patients of any profile with sleep problems, snoring, sleep disorders are examined in the "Sleep Laboratory" of the hospital. They undergo respiratory monitoring, polysomnography, and the results of which determine the treatment of obstructive sleep apnea syndrome (OSA). Earlier detection of this pathology is an effective prevention of acute cardiovascular events, stroke and sudden death in sleep. OSA treatment significantly improves the quality of patient lives.
The Department provides comprehensive drug and non-drug therapy using all types of rehabilitation treatment-therapeutic exercise, underwater traction, gala chamber, HBO, plasmapheresis, acupuncture, hirudotherapy.
Doctors of the Department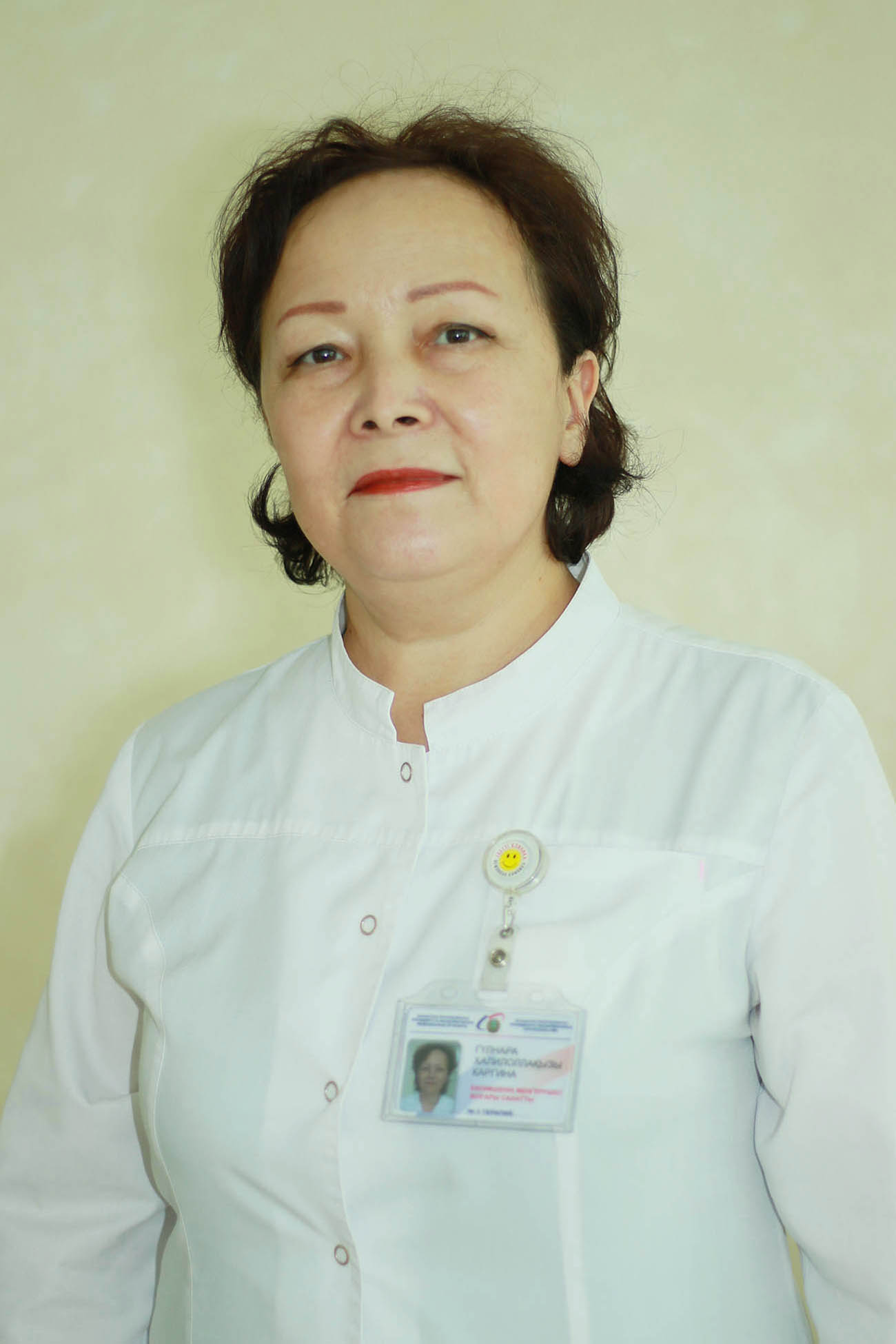 Gulnara Khalilollovna Kargina
Chief of Department
The Highest Category
Work experience: 33 years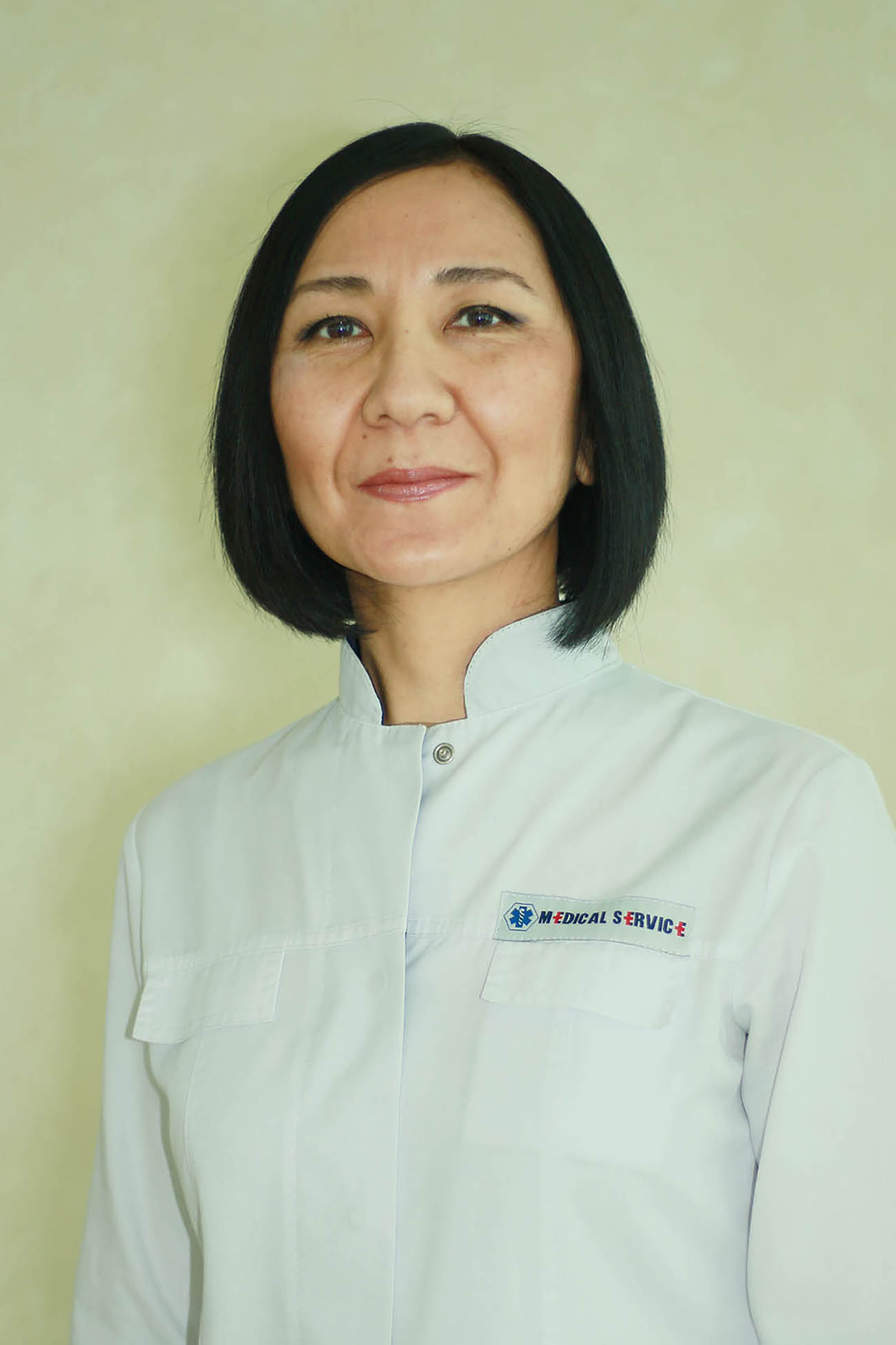 Venera Kanatovna Aimagambetova
Neurologist
Тhe Highest Category
Work experience: 22 years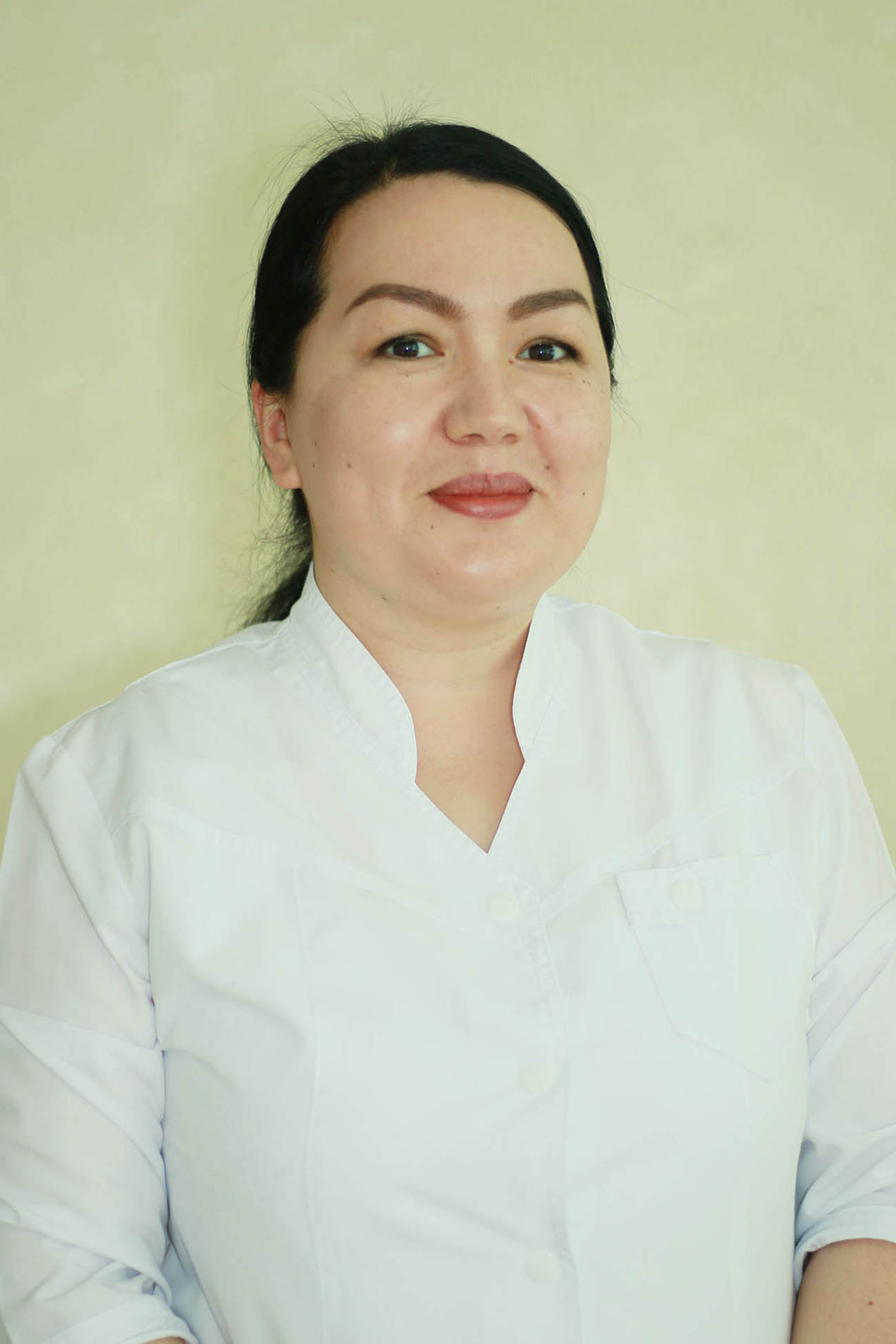 Aizhan Zhaksylykovna Sarsenbayeva
General physician
Тhe Highest Category
Work experience: 14 years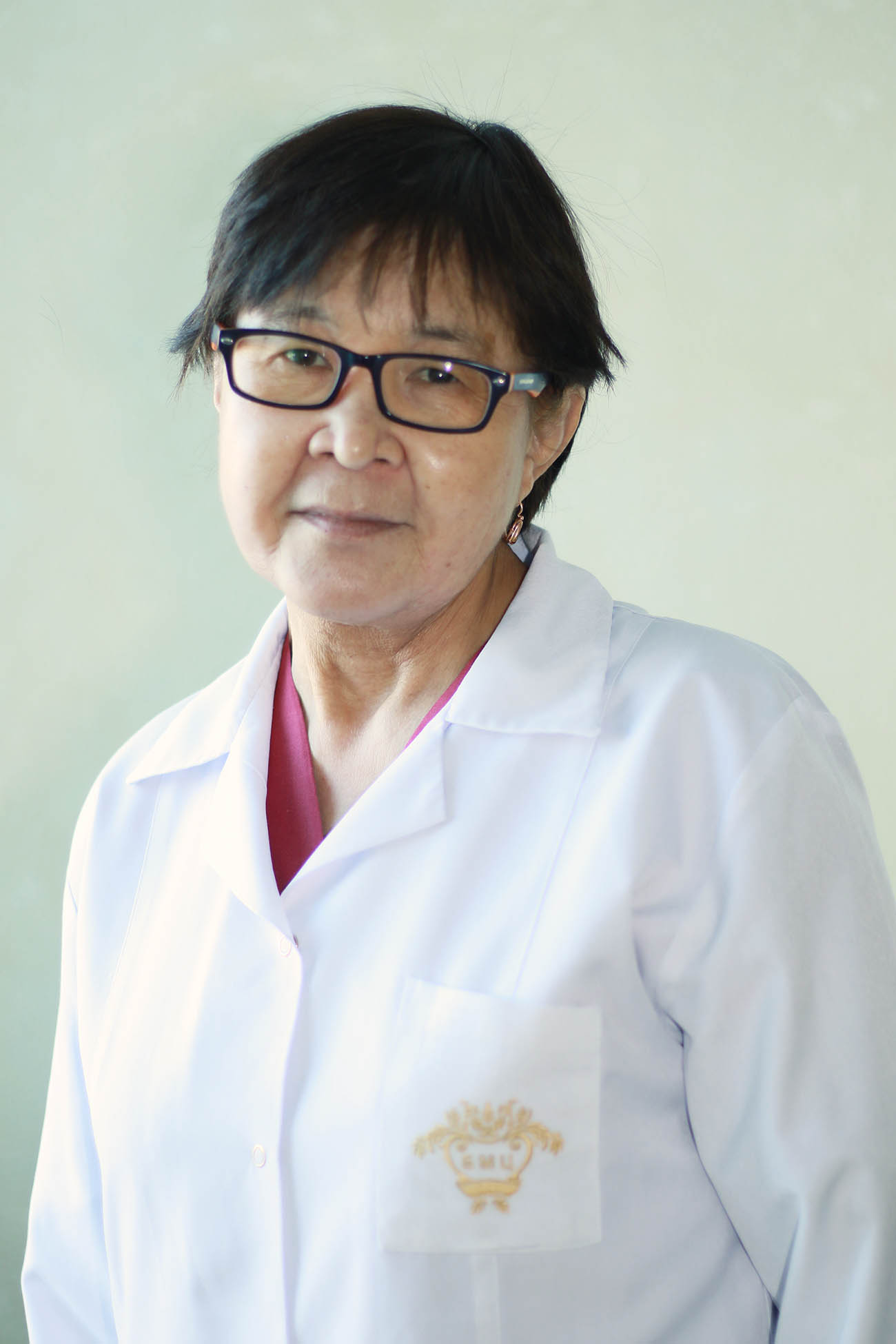 Zhanat Sadykovna Ausagitova
Endocrinologist
Тhe Highest Category
Work experience: 42 years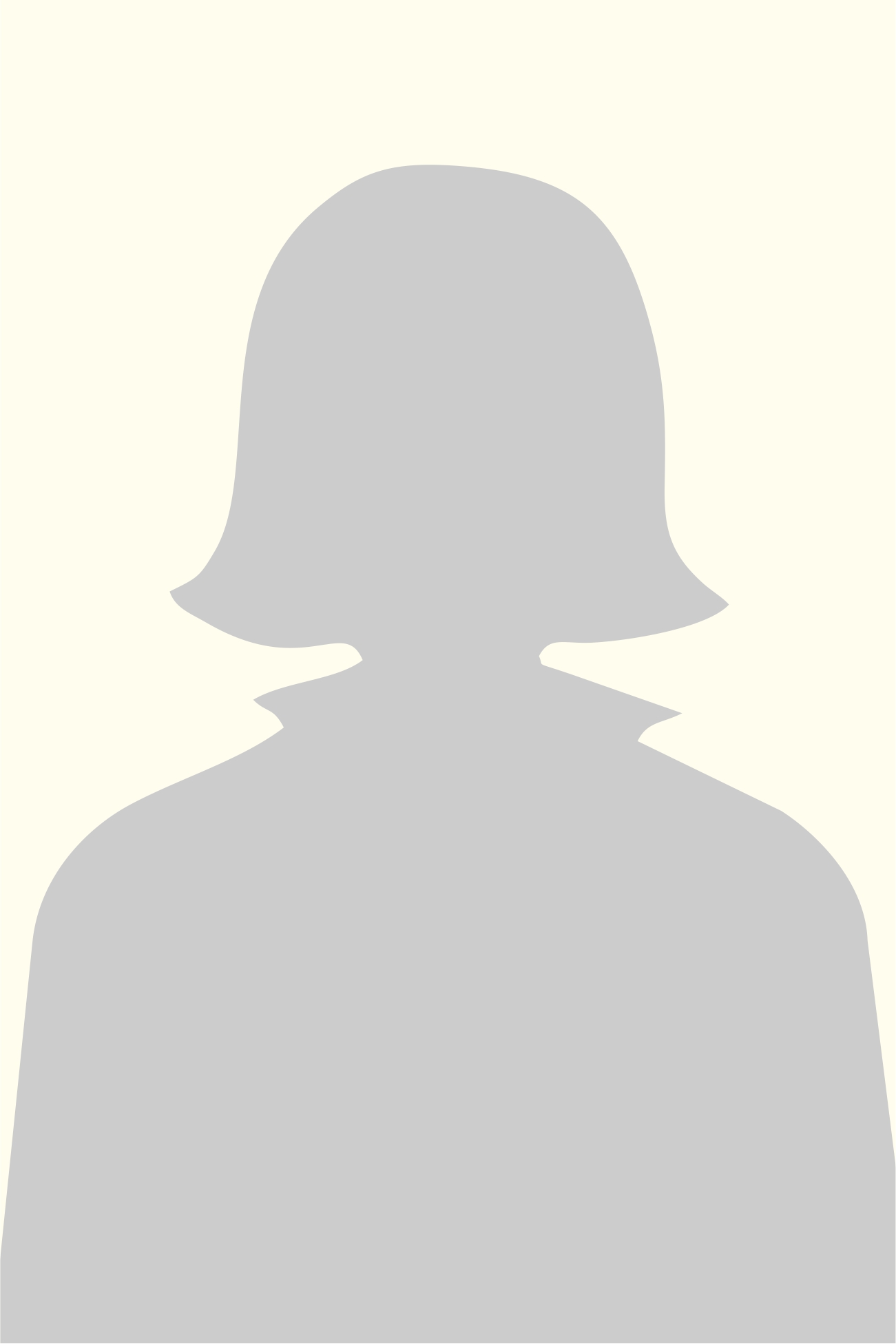 Zhanar Bakhytzhanovna Ospanova
Neurologist
Тhe First Category
Work experience: 12 years