Diagnostics Center
Magnetic resonance imaging is a research method that allows to get a detailed picture of human organs without internal intervention. Since the principle of machine is based on magnetic fields, the research process is safe from the point of view of ionizing radiation due to its absence.
Department services include high resolution computed tomography of the whole body, namely:
- MR diffusion of the brain and other organs;
- MR and CT perfusion of the brain, liver, heart;
- MR and CT angiography of the vessels of the head, neck, upper, lower extremities, visceral branches of the thoracic and abdominal aorta;
- neuroimaging (spectroscopy, tractography, functional MRI);
- MR- enterography;
- minimally invasive diagnostic and treatment interventions under CT control.
Contact information: 8 (7172) 70 78 88
Schedule:
Mon-Sat: 8a.m. – 8p.m.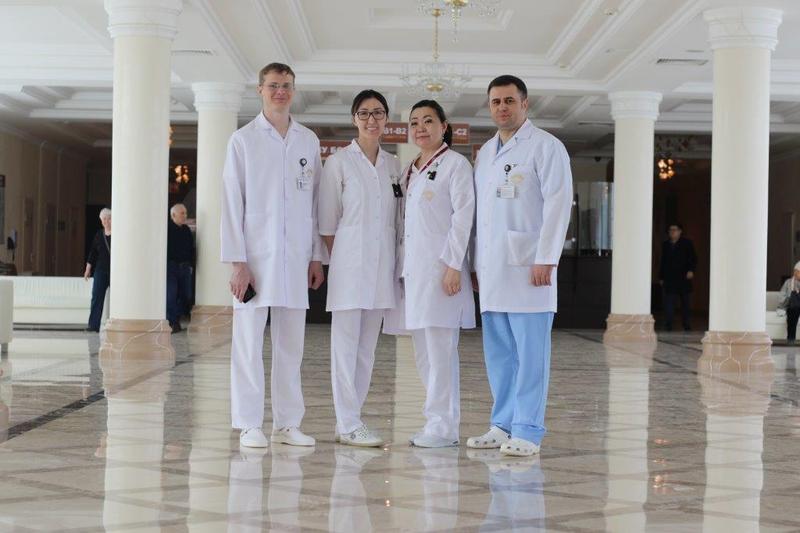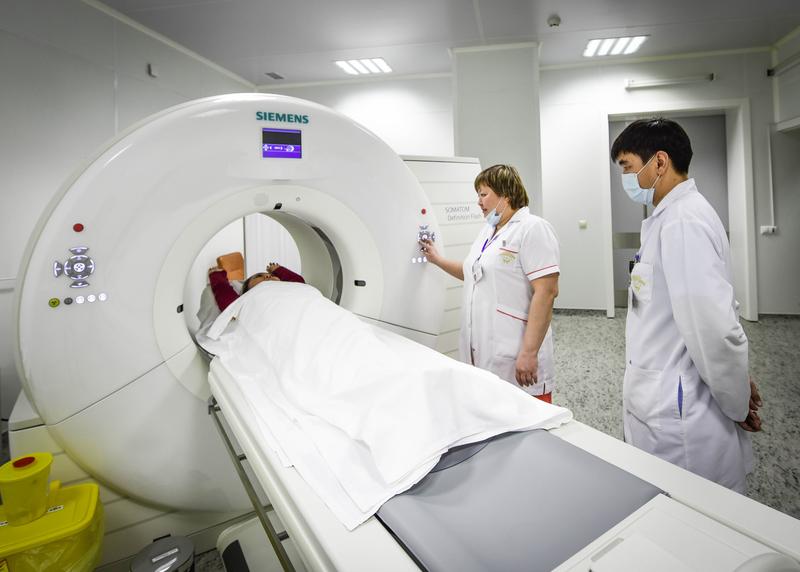 The Department is equipped with modern equipment, with the help of which employees provide qualified diagnostic services to patients.
The Department conducts such studies:
• X-ray diagnostics (scopy and graphy);
• X-ray mammography;
• Osteodensitometry;
• Panoramic and 3D orthopantomography;
• Dental radiography.
In X-ray diagnostic rooms, all types of routine X-ray studies, as well as special radiological and fluoroscopic studies are performed:
• osteoarticular system;
• chest organs;
• abdominal cavity;
• polypositional fluoroscopy of the esophagus;
• fluoroscopy of the stomach;
• passage through the intestines;
• cholangiography;
• fistulography;
• real-time hysterosalpingography;
• excretory urography;
• dental research (dentition).
In the X-ray operating room, as well as in the admission in the small operating room, C-arm X-ray equipment is installed, under the control of which various endoscopic operations are performed.

Our Hospital has innovative and high-precision diagnostic equipment LOGIQ e9 (GE Medical Systems Information Technologies Inc., USA), Voluson E8 (GE Healthcare Austria GmbH & Co OG, Austria), Vivid E9 (GE Vingmed Ultrasound AS, Norway).
The Department provides the following types of studies:
- Ultrasound diagnosis of diseases of the abdominal cavity and retroperitoneal space, pelvis (in women: transabdominally, transvaginally; men: transabdominally, transrectally;
- Ultrasound of early pregnancy, folliculometry;
- Ultrasound of the pleural cavities, superficial organs (mammary glands, thyroid gland, salivary glands);
- Ultrasound of the eyes, soft tissues, lymph nodes;
- Puncture (thyroid gland, mammary gland) under the control of ultrasound;
- Intraoperative studies;
- Ultrasound examination of the musculoskeletal system (joints, ligaments of the muscle, tendon, cartilage)
Functional Diagnostics
The department conducts more than 20 types of studies, covering the cardiovascular, respiratory systems, neurophysiological research methods. Assessment of the functional state of blood vessels and the heart is carried out on expert-grade devices (Vivid e9, treadmill test system Cardiosoft). The department has a "Sleep Laboratory" in which one of the modern methods for diagnosing, evaluating and treating sleep disorders using polysomnography, computer pulse oximetry (detection of chronic hypoxemia, sleep apnea) with a selection of treatment (auto CPAP therapy) is carried out.
Types of Services/Benefits
Color duplex (triplex) scanning of the vessels of the upper and lower extremities, vessels of the neck and head (CDS, BCA, TCСS), blood vessels of the liver, kidneys, abdominal aorta and its branches, transthoracic and transesophageal echocardiography, stress treadmill test, computer spirometry with bronchodilation tests , 24-hour ECG monitoring (12 and 3-channel), 24-hour blood pressure monitoring, electrocardiography, electroencephalography, stimulatory electroneuromyography of the upper and lower extremities, computer polsoxymetry, policy mnografiya, CPAP therapy.
Brain electroencephalography
Contact information: +7 7172 70 80 58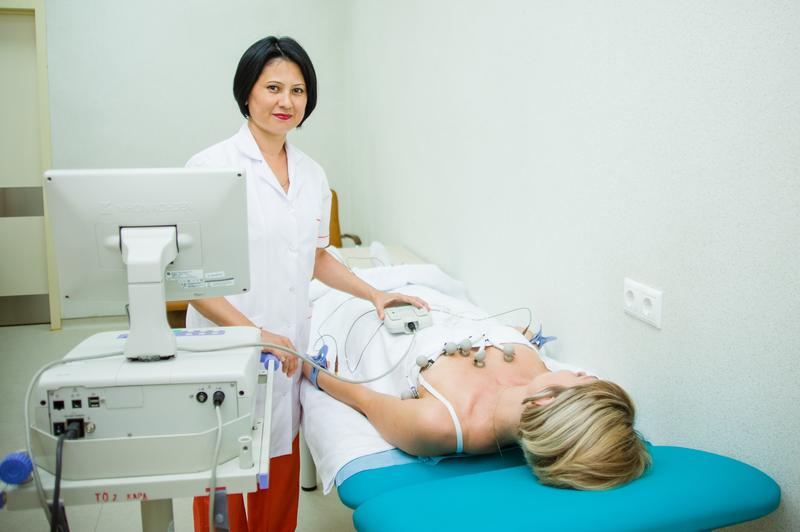 The nuclear medicine unit provides a wide range of innovative diagnostic services in hybrid units: a single-photon emission computed tomography scanner combined with a 6-slice computed tomography scanner using radiopharmaceuticals based on technetium- 99m (99mТс), and a positron emission tomograph combined with a 40-slice computer tomograph using a radiopharmaceutical 18-fluorodeoxyglucose (18F-FDG).
Today, the nuclear medicine unit is one of the few projects in the country that combines the experience of leading specialists in the field of nuclear medicine: highly qualified doctors, physicists, chemists and medical workers, and the capabilities of the latest high-tech equipment for serving the health of the nation.
Our Hospital is the only in the country that provides nuclear medicine services using unique high-tech medical equipment that has no analogues in the country - a 6-slice single-photon emission computer tomograph combined with a computer tomograph (SPECT/CT), as well as positron emission tomograph combined with a 40-slice computed tomograph (PET/CT). This equipment allows conducting two types of studies simultaneously (hybrid technology): a radioisotope study of SPECT and PET with anatomical structural detailing of the pathology on CT.
Contact information:
+7 (7172) 70-80-40;
+7 (7172) 70-79-46;
+7 705 888 77 77
Email: mcudp2016@gmail.com