Department of Commercial Services
Department of Commercial Services
Department of Commercial services and allergology center render services in detecting and treatment of various pathological conditions of organism.
Experienced physicians conduct outpatient appointments, such as: general physician, neurologist, cardiologist, rheumatologist, endocrinologist, gynecologist, urologist, ENT doctor, gastroenterologist, ophthalmologist, surgeon, traumatologist, angiosurgeon, oncologist, mammologist, among them physicians of high qualification grade, PhD and MD. Blood sampling and room for medical procedures are functioning.  
For early diagnosis of diseases or disease appearance risk factors, for timely effective treatment conduction, prevention further disease development and serious complications Check-up is conducted. Chek-up – is general or specialized organism investigation.
Medical centre Hospital of President's Affairs Administration of the RK developed rationalized comprehensive programs of diagnostic, which can be corrected individually according to the patients' specific health problems.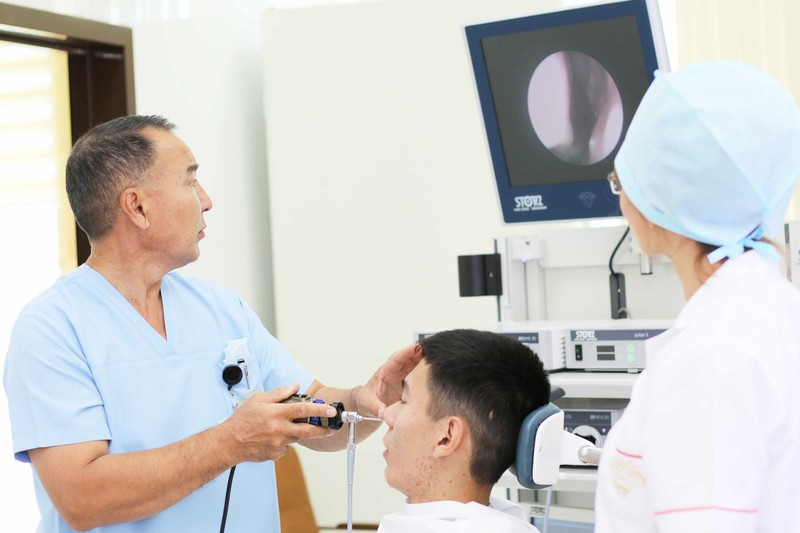 ENT physicians have the most up to date equipment. First of all we have to emphasize German equipment «KARL STORZ». It allows accomplishing a lot of manipulations for diagnosis (microscope, endoscopic video system with possibility to make images and video series) and treatment (sinus rinse, ear irrigation with warmed solution system, lavage of  palatal tonsils, nebulization of medicaments and otomassage).
There is ultrasonic apparatus "Tonzillor" for conservative and surgical treatment of ENT diseases.
In the arsenal of the experienced doctors there are other diagnostic methods, such as audiometry, audiologic screening conduction, tympanometry, ultrasonic testing of paranasal sinuses and nose.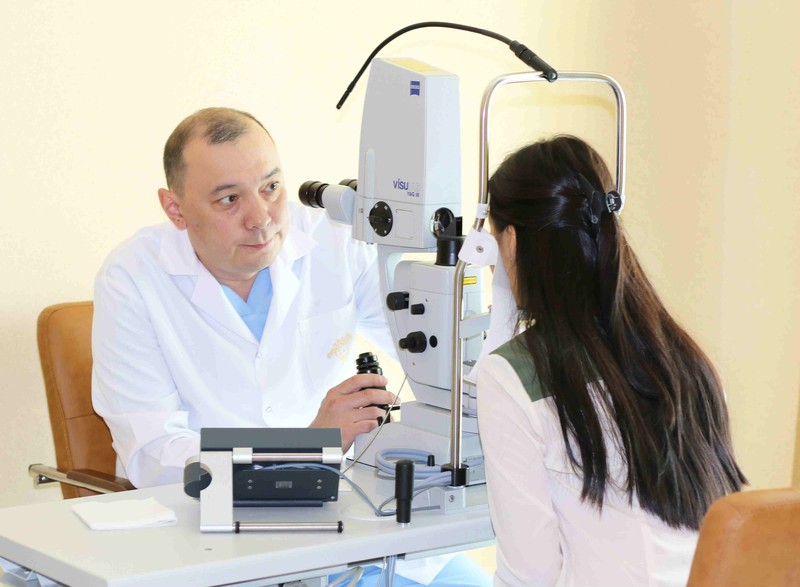 Laser ophthalmological office 

Laser ophthalmological office has state-of-the-art equipment for treatment of various ophthalmological diseases.  Only in Astana exclusive photo coagulator «VISULAS Trion» manufacturer «Karl Zeiss» with three wavelength for more effective treatment of many diseases of eye ground.  Also, laser treatment of glaucoma and anterior segment of an eye with optical aim on «VISULAS YAG III combi» apparatus of «Karl Zeiss».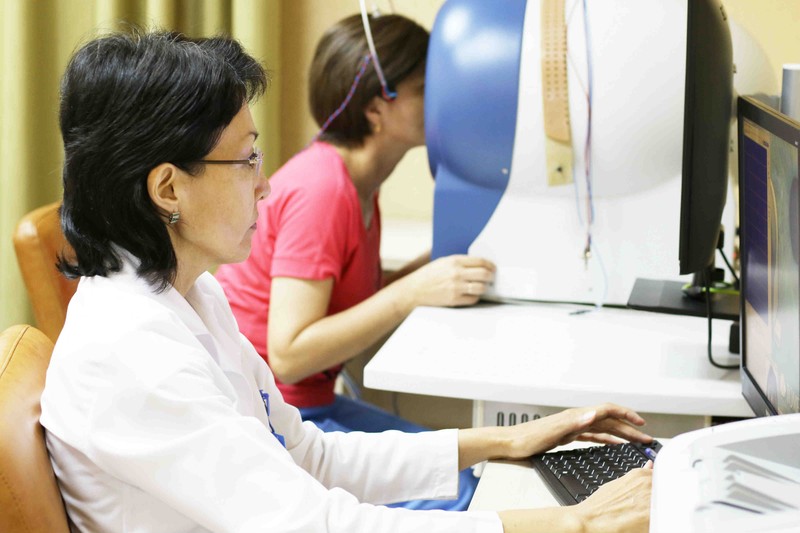 Ophthalmological office has the most up-to-date devices for diagnosis and analysis of possible pathology as anterior so  posterior segment of the eye: unique apparatus for measuring intraocular pressure «PASCAL» (Switzerland), the best optic nerve and retina scanning tomography is -  Retina tomography «HRT III» (Heidelberg, German), ideal camera for eye ground photography  «VISUCAM» manufacturer «ZEISS», classic optical tomography for macula and optic nerve diagnosis «ОСТ Spectralis» (Heidelberg, German), Eye ultrasound apparatus («TOMEY», Japan), «ZEISS» peripheric vision scanner, and comfortable working zone by «Takagi» (Japan) with all necessary devices for vision function detection. 

Unique device for eye electrophysiological study must be emphasized separately «Multifocal EP-1000-KEY» («TOMEY», Japan), compliant with standards of International Society for Clinical Electrophysiology of Vision. Also worth of your attention hardware and software system «Amblikor ТМ-01» Computer Vision Syndrome, amblyopia, rehabilitation of different types of ametropia and etc.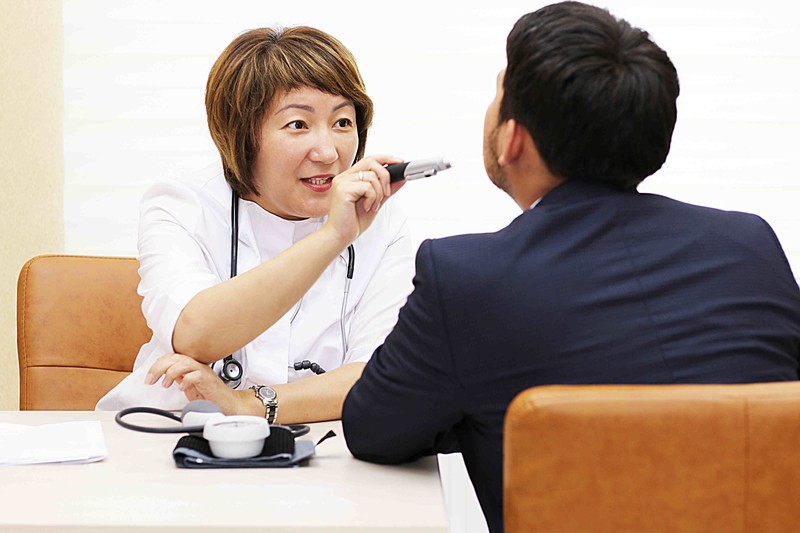 Allergy center is specialized core dedicated unit, where main attention is paid to diagnostic and treatment of allergies and immune conditions.
At the allergy center you can:
- To receive highly specialized consulting assistance by allergologists – immunologists about allergy diseases and rendering emergency care during acute allergic diseases and treatment of acute conditions of chronical allergy diseases in day hospital and receive reasonable recommendations on allergy treatment and prevention;
- Carry out allergic disease diagnostic (skin testing, blood test) together with reasonable recommendations on excluding allergens from encirclement;
- To get allergen specific immunotherapy with highly purified modified allergoids from Europe;
- Immunological status index detection. Immunodeficiency diagnostic (secondary immunodeficiency), adequate immunomodulation fitting);
- Medicamentous allergy detection and other allergy forms that are hard to be detected by laboratory    is done by cytometric method of detection in Vitro highly sensitive markers, actively participating in immunopathogenesis of allergic reactions;
- Carry out laboratory diagnostic of inherited and acquired Quincke`s disease.
Allergy center: 8 707 208 68 43
Ambulatory surgery center performs following types of surgeries and manipulations: initial surgical debridement, removal of soft tissue's foreign body, lancing of abscess of soft tissues of any localization, ablation of formations (lipoma, papilloma, condyloma, atheroma etc.), lancing and ablation of pilonidal fistula,  nail plate plastic (during ingrowth and nail plate deformation), surgical plastic of rough deformed scars, surgical plastic after earlobe piercing (widening and deformation of perforated hole);  laparocentesis, pleural cavity puncture (pneumothorax and hemothorax), overlapping active suction drain, joint puncture, urethral catheter placing, circumcision (posthioplasty during phymosis and paraphimosis); conservative treatment of chronical hemorrhoid and uncomplicated anal fissures,  paraproctitis lancing, anal fissures ablation, hemorrhoidal bolus ligation (latex rings application),  консервативное лечение хронического геморроя и неосложненных анальных трещин, вскрытие парапроктитов, иссечение анальных трещин, лигирование геморроидальных узлов (наложение латексных колец), ablation of formations in perianal zone (papilloma, candyloma etc.) carry out rectum and fundament diseases diagnostic;  different kinds of blockades: paranephric, paravertebral, anorectal, joints of diverse localization and other.  
Center is equipped with modern facilities for surgical interventions and manipulations, such as «Sonoca-190» (Germany), «ERBE-200S» (Germany).
Нарманова Орынгуль Жаксыбаевна – Chief of Department of Commercial Services
We are located :
Block F, 2 floor.
Contact numbers:
Call Center: +7 (7172) 70 80 90