Anesthesiology, Resuscitation and Intensive Treatment Department
Anesthesiology, Resuscitation and Intensive Treatment Department
The Department is equipped in accordance with international standards and consists of five blocks:
1. General resuscitation block
2. Cardio block
3. Post anesthesia care unit
4. Express lab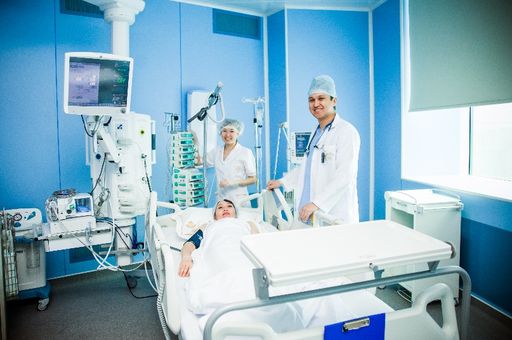 1. General resuscitation block consists of 3 wards for 7 beds and one single ward with individual exit.
2. Cardio block consists of 2 wards for 5 beds, a single ward for special category of patients, and an intensive care unit, where a small operating suite can be deployed at any time.
Each bed is equipped with individual self-inclusive gas supply console, electric power, and General Electric bedside monitor. Each bed is fitted with General Electric medical ventilator to conduct invasive and non-invasive ALV, with the state-of-the-art adaptive ALV modes. Each console includes a vacuum aspirator. The ARITD ward is provided with own US devices, a bronchoscope, laryngeal catheterization set, and electrical impedance pneumograph.
In each ward there is a nurse's area equipped for 24-hour ongoing monitoring of patients. At the same time, all bedside monitors are connected to the common panel in the corridor of the Department.
The specific character of wards consists in special ventilation system ensuring both maximum comfort of each individual patient and special air cleaning system that minimizes the possibility of infection dissemination.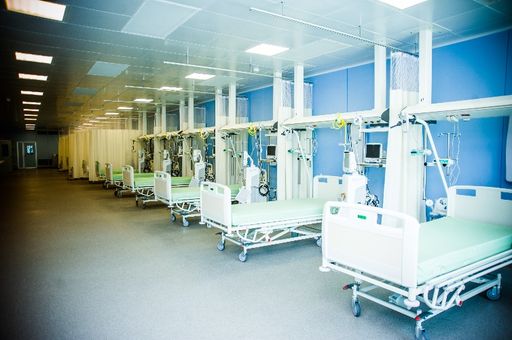 3. Post anesthesia care unit: The sector implementing the concept of one day surgery. Most of patients of our Clinic are provided with surgical service on the day of admission. This allows reducing time of patient' stay in the health care facility, minimizing psychoemotional spending of patient for the treatment process, and optimizing the work of the staff and equipment.
The concept of the unit consists in observation of patient during the early postoperative period (2 – 3 hours) and subsequent transfer to a specialized department.
The unit is designed for 13 beds, each bed is equipped with an ALV device, bedside monitor, self-inclusive gas supply console, and a patient warming device.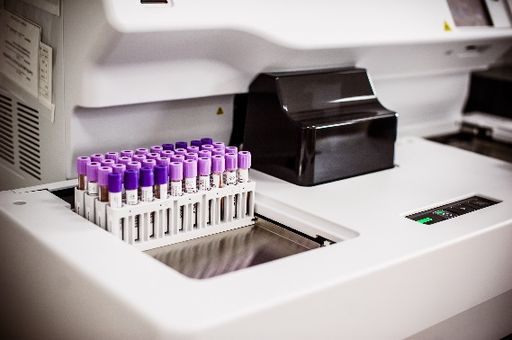 4. Express lab: The objective of this block is to ensure 24-hour laboratory diagnostic support at all stages of the treatment process through opportune examination, express analyses during surgical interventions, and in the course of treatment of patients staying in the resuscitation and intensive treatment department.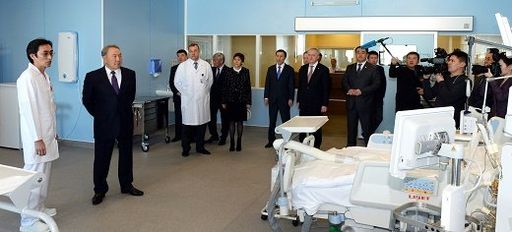 The doctors' team is composed of highly experienced anesthesiologists and intensivists of the highest and first qualification grade, who possess all necessary knowledge and skills, and have been trained in the world best medical centers. The nursing staff is composed of highly experienced nurses of the first and highest qualification grade.
Anesthesia service: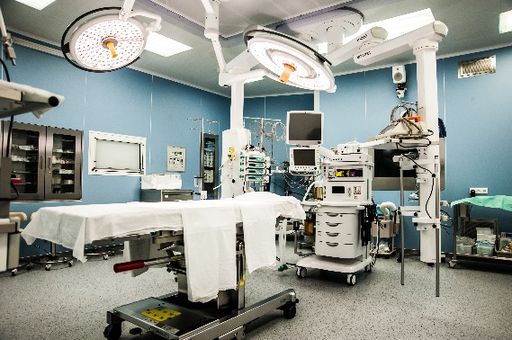 Administered are all forms of required anaesthetic support for any types of surgeries of any complexity and duration. The anesthesia service is fully furnished with all necessary equipment (invasive and non-invasive hemodynamics monitoring, entropy, cerebral oximetry, neuromuscular monitoring, and gas analyzers). Outpatient anesthesia service has been organized for one day surgery and endoscopic manipulations. 90% of endoscopic manipulations (EGD, colonoscopy, ERCP and others) are conducted under infusion anesthesia or sedation thereby ensuring comfort conditions for our patients.
Заведующий отделением Бабашев Бауыржан Бахтыбекович, врач высшей категории